Search Brands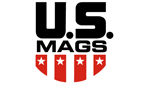 US Mags
Originally called "mag", wheels because they were made entirely of magnesium, rim seekers put this style of wheel on many of the old classic cars. Adding a more custom look, but not taking away from the nostalgia of the era, US Mags have recreated these classic wheel styles. No longer made of magnesium, but made of aluminum, US Mag wheels still define the craftsmanship one honed by early wheel customizers. In addition, the aluminum allows US mags to provide classic car enthusiasts with rims cheap rims.
TireCrazy.com has joined with US Mags wheels to give you the most affordable classic rims on the market. This partnership means that you get the most ideal technology at cheap rims prices. Whether you have an old GTO or a classic Chevy BellAir, these classic car wheels will compliment the muscle machines of the era. In addition US mags are available in size ranging from 15 inch rims, 16 inch rims, 17 inch rims, 18 inch rims, and even 20 inch rims. Make sure you enhance the value and appearance of your vintage ride with the original wheel brand that started it all, US Mags. When you're buying US Mags rims at Tire Crazy, it doesn't just signify that you're buying the coolest wheels of the era; it means that you're buying them at affordable prices!
Many classic car enthusiasts like to match their US Mags wheels with new rubber from Firestone tires, BF Goodrich tires, or GoodYear Tires and they maintain that classic car look. Discount tires offers you free mounting and balancing on all wheel and tire packages. This is very important to all automotive enthusiasts looking to save money because those wheels and tires can get expensive when searching this service out in your neighborhood.
If you are in the market for wheel and tire packages for your vintage ride, then you may want to fit your US Mags wheels with the following tires for sale. As of late, many classic car owners have been extremely happy with the Hankook brand of tires because it offers car owners cheap tires with elegant tread patterns and superb engineering techniques and technology.
Often finding rims for sale that can fit you classic car can be difficult, so if you have additional questions about fitment or application of US Mags, please feel free to contact customer service at 1-877-382-2007. Our friendly staff can answer any questions you might have regarding fitments, wheel and tire packages and tires for sale. Remember TireCrazy.com isn't only known for its tire sales, it is also know nationwide as having tire racks stocked with inventory to save you money! Contact our representatives today to find out any upcoming tire sale!