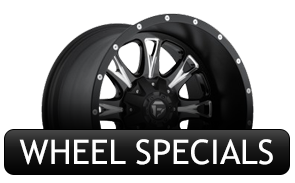 Browse through our assortment of cheap wheels for sale from our top wheel brands. We feel confident you'll find great deals on our wheels that will enhance the look of your truck, sports car, SUV or coupe.
Read more
Promotion
2015 Bizrate Circle Of Excellence Award
Read More
For heavy duty off-road wheel brands, take a look at our XD, Fuel and Gear Alloy wheels. XD Wheels were designed to go off-road. Resistant to rough terrains, these wheels still manage to maintain a streamlined appearance. Fuel Wheels are another great brand for your 4x4 truck, appealing to those who want a massive and edgy look. Furthermore, with our selection of Fuel wheels you'll be sure to get top quality wheels at low prices. If you're searching for a rugged but uniquely styled wheel, check out our Gear Alloy Wheels. We offer wheel sizes ranging from 18 in. to 22 in., perfect for Fords, Dodges, Chevy trucks and more!
If you're in the market for tuner or sports compact wheels, take a peek at our XXR, Giovanni and Motegi Racing Wheels. Enhance your vehicle's look with a modern approach when you purchase our XXR Wheels. Available in multiple colors and styles, we offer sizes ranging from 15 inches - 20 inches. If that's not what you're looking for, view our selection of Giovanni Wheels. Offering both a modern and stunning appeal to your vehicle, you'll love the way your ride looks once they're on your vehicle. Motegi Racing Wheels are performance driven, bold and innovative in design. If you've got a soft spot for your vehicle and love to show off your ride, browse through our stellar Motegi Racing Wheels today.

As for European styled vehicles, view our selection of Niche, TSW and KMC Wheels. For elite car wheels look no further, Niche Wheels are what you need. They are classic, but absolutely exquisite and not to mention trés chic! Not sure if they'll fit your car. No problem, you can tailor the wheel to suit your style preference and budget. For a gorgeous accent that'll make your BMW, Mercedes or Audi look even more incredible? Try our TSW Wheels, known for producing quality wheels; TSW is a well-respected brand to choose for your vehicle. KMC Wheels offer excellence in quality as well as design. Find great selections on styles and colors like; black rims, flat black rims and more. With wheels sizes ranging from 17 inches - inches and up, you'll be sure to find the wheels for your premium vehicle. Learn more about our top brands and amazing offers at by contacting a qualified customer service representative at: 1 (877) 382-2007