Search Brands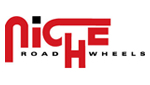 Niche Wheels For Sale
Niche wheels have set a new criterion by which elite car rims are judged. Designed to complement the finest luxury vehicles in the world, Niche wheels are far from cheap rims. Thanks to sophisticated equipment and techniques, niche wheels have become recognized internationally as having the premium look those car tuners and enthusiasts are raving about.
Concave designs and exquisite finishes are what draw the automotive enthusiasts to these wheels. Not only are they some of the hottest wheels for sale, they are often fitted on automobiles already designed with excellence. Whether you are a BMW, Mercedes, or Lexus car owner, this brand of wheels could not compliment your vehicle any better. Niche wheels offer many styles and fitments, so you can tailor the wheel selection to fit your budget and preference. Not all rims for sale offer the newest trends and technology, but niche wheels offer you both at affordable prices.
TireCrazy.com have a unique relationship with the manufacturers of niche wheels and have been offering their rims for sale at unbelievable pricing! There is no other company online that offers tire crazy like Tire Crazy! Our wheels are priced so competitively that combining them with tires for sale can only make for huge savings on wheel and tire packages.
Whether you are in the market for custom matte black rims for your car, or custom matte black 22 inch rims for your sport utility, niche has some eye popping applications that will have you loving your vehicles new look. Superior quality and an unsurpassed appearance are trademarks of the niche line of wheels.
For further information regarding Niche wheels for sale, please feel free to contact our customer service representatives at 1-877-382-2007. Our representatives can share with you what we have in rims for sale and tires for sale, and even what combinations can be accomplished to make for compounded savings on wheel and tire packages. Shop today!