Search Brands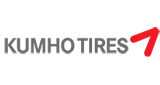 Kumho Tires For Sale
It has been at least four decades in the making, but Kumho tire has achieved world renowned recognition for their manufacturing of quality tires for sale, that provide drivers superior handling, quality, and safety at a great economic value. Emphasizing unsurpassed design and technology, tires Kumho knows that performing within the streets is where most tires are proven. Automotive enthusiasts around the world have come to associate Kumho Tire with unparalleled performance and value. Using advanced and patented technology, Kumho enhances peak tire performance by optimizing braking distances and improving driver's predictability of steering for safe, reliable driving. Kumho tires have proven time and time again, that value in a tire does not have to sacrifice reliable performance. Drivers worldwide know the Kumho tire name and the level of superior performance that resides within the products representing this name.
In addition to their level of commitment to performance, Kumho Tires has marched ahead persistently for cause of the environment as well. Kumho tires for sale have established the ability to produce top products while utilizing reprocessing efforts to limit the amount of waste tire production can expel. Two of the special ecologically sound products, the Kumho solus and the Kumho ecsta series of tires, are attested with this eco friendly technology. Furthermore Kumho tires passion to restore ecology in its originality has led to eco-conscious endeavors include reducing the mass of tires, which happens to not only, be economical but also vital in toning down the total volume of used tires. This mass reduction also benefits those eco friendly automobiles looking to roll tires with the least amount of rolling resistance. Tire Crazy and Kumho tires online are glad to offer a series of wide ranging ecology-compliant tires at unbelievable prices.
Kumho solus kr21: The Kumho Solus KR21 provides a traction-enabling carbon compound that is molded into a computer-optimized tread convention to provide superior grip in all weather scenarios. In addition the Kumho kr21 has individual shoulder blocks, notched intermediate ribs, and an uninterrupted center rib to offer superb handling. The Kumho solus kr21 uses sound deadening technology to greatly reduce road noise and deliver a quiet ride. The Solus KR21 is contrived to provide a mix of long wear, low noise, and decent ride with skilled handling and all-season traction, light snow.
Kumho ecsta asx: The Kumho Ecsta ASX (ASX for All-Season Xtreme) is a one of Kumho's proud race-durable performance series tires. The Kumho asx is an ultra high performance all-season tire that took shape to meet the needs of SUVs, coupes, and sedans by merging reactive handling with year-round traction; even in light snow. This affordable Kumho asx tire for sale has an appearance that is appealing to all likes of automotive enthusiasts.
Kumho ecsta lx platinum: The Ecsta LX Platinum (KU27) is Grand Touring All-Season radial manufactured to meet the requirements of sporty and luxury performance sedan drivers. Kumho Ecsta LX Platinum is contrived to long wear and calm ride with year-round traction, including in light snow. Kumho casts their sophisticated all-weather tread compound into the Ecsta LX Platinum alongside an asymmetrical tread design.
Kumho ecsta spt: The Kumho Ecsta SPT is Kumho's stupendous performance tire developed for SUVs, coupes, and sedans. The Kumho spt has got the design that offers grip, comfort, wear, and good looks so as to provide exuberant drivers the offer to "drive smart and look good." These tires are not conducive to be driven in near-freezing temperatures, through snow or on ice.
Kumho road venture apt kl51: The Road Venture APT (KL51) is Kumho's highway all-season tire developed light trucks and for SUV owners who ride high. The Road Venture APT is a multifaceted tire designed to provide a roller coaster ride, enhances driving stability and lowers down road noise, while providing all season traction.
Kumho ecsta le sport: The Ecsta LE Sport is Kumho's Max Performance Summer tire intended for the drivers of SUVs and top performance sedans who aspire dynamic handling on all terrains. The Ecsta LE Sport provides an advanced European-inspired design that gives a mix of ride comfort and cockpit quietness. Like any summer tire, it is not for near-freezing temperatures, through snow or on ice.
Kumho road venture at kl78: The Kumho Road Venture AT is an all-terrain and all-weather light truck tire designed to mix the off-road traction with on-road quality and handling. This Kumho at is available in load ranges C, D, and E. An assortment of sizes allows the Kumho at to meet the needs of many truck tire owners and was produced to meet the requirement of heavy-duty pickup trucks.
Kumho road venture sat kl61: The Road Venture SAT for Stylish All-Terrain is Kumho Tire's on-/off-Road all-terrain light truck tire designed for pickup, crossover, and sport utility vehicle drivers on for long wear and a comfortable ride. With excellent tread pattern and sidewall styling this Kumho at has animated the original shape. The Road Venture SAT is designed to mix traction in dry, wet, and wintery conditions.
Further clarification may be desired on Kumho tires online. If this is the case, please feel free to contact customer service at 1-877-382-2007 to assist you with your questions. Furthermore, our customer service representative will be able to assist you with any tire rack specials we may be having and any possible wheel and tire packages.