Search Brands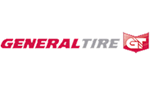 General Tires For Sale
General tires was founded in 1915, in Akron Ohio, as the General Tire and Rubber Company. They invented and brought revolutionary products like the low pressure General Balloon Jumbos, oil extended rubber and carbon black latex to the market. General Tire merged with Continental tires in 1987 and formed the world's fourth largest tire manufacturing company. This not only introduced a new force in the tire industry, but earned recognition by industry experts. General tire was now equipped to provide great economic tires for sale that would be recognized for having Continental's unsurpassed craftsmanship and technology. General tire sale prices are economical, and their tires quality is everlasting.
Today, General Tires online are best known for being tough and durable, like those used on the vehicles they sponsor on the Off-Road truck circuit. These popular truck tires are known for being able to handle the most demanding off-road terrain out there. Specifically, the general grabber series of truck tires is recognized with the snowflake stamped sidewall for having approval by the DOT for extreme weather conditions including snow and ice. If you're a truck tires consumer, you know there are few tires out there that can lay claim to that badge of honor.
General tires rise to the top has not stopped there. General tires produce automotive applications that hold high regard from automotive enthusiasts, and are priced economically against any of the top name brand tires for sale. Tires manufactured by General Tire come with technological advantages like their TCT Technology, which provides a smooth easy ride even on bumpy roads. It uses the Twin Cushion Silica Tread Composite design and materials to cushion against an uneven drive surface, and still maintain a long tread life. The Visual Alignment indicators on their tires help the driver notice any problems with the wheel alignment. It has a groove pattern on the two outer edges of the tire that wear out at different rates on an improperly aligned vehicle. It is thus easy for the driver to figure out if there is a problem before it impacts the life of the tire. Their RTM Technology makes it easy for the driver to figure out when tires need to be replaced. General tires understand that a tire sale is never final, and the better you equip each and every customer with the tools necessary to maintain their tire life, the more likely a customer will return for future tire sales.
General Tire makes tires for a wide range of uses from Sports cars to Commercial Vehicles. Their general altimax tires for sale are versatile and best suited for passenger cars and sports coupes. They come with Acoustic Modulation Sound Technology (AMST), Reactive Contour Technology and Twin Cushion Silica Tread Compound to provide great handling, grip, and a silent ride.
The general grabber range of tires from General Tire, are best suited for use in SUV's, cross over vehicles and light trucks. These tires have different tread designs that help them deal with off road or wet conditions, the general grabber hts version has Duragen which are very high strength steel belts designed to take the punishing terrain off road. Three types of sipes, and micro-fiber casing reinforcements ensure that the Grabber HTS is one of the toughest truck tires sold. The general g max range of tires is ultra high performance that uses its 3-D Interlocking tread blocks and Aqua-cleave Tread Channel Design to provide an excellent ride experience even in light snowy conditions. Performance is what drives this tires sales and consistency and predictability are what the G-max line of tires deliver to each and every high performance enthusiast.
General ameritrac tires have computer molded tread design, and some are made of cut and chip resistant material. They work really well on and off the road and deal admirably with snow and mud.
Additional inquiries of General Tires can be assisted by the Tirecrazy.com customer service desk. Our friendly staff will be more than happy to assist you with questions about General Tires and any that might be on a tire sale. When you buy tires online you save money.